Introduction
In 2019, medical devices reached a global market of around $456.9 billion, this growing number is due to their significance in our day-to-day life [1]. Medical devices are evolving for decades and providing the best device for any injuries or defect is the ultimate purpose of its research. Biotribology has been very active in providing solutions and addressing various problems with medical devices. Biotribology is a field of tribology that deals with investigating the interactions of the surface interface of biological systems. The principles and operations of medical devices are very complex which is due to the complicated biological structure and their working principles. It is highly impossible to maintain or mimic all the features of a biological system in an artificial or in-vitro experimental setup. Thus, it is very complex to perform and obtain results accordingly.
Fig-1 The biomedical application of 3D printing of biometals [2]
Biotribology – Medical Research
Biotribology research has been focused on various topics in the field of biology, especially on medical applications. In medical devices, Biotribology research works are predominantly performed on artificial joints, fracture fixation devices, skin-related devices, dental restoration devices, cardiovascular devices, and minimally invasive surgical devices. These areas are being researched for a few decades and have provided many applications which are applied in current-day medical devices.
Artificial joints
Artificial joints have been used for ages due to the increase in osteoarthritis conditions in most of the aged population. Artificial implants are used for various joints such as the hip, knee, shoulders, wrists, elbows, ankles, etc. However, the most researched and predominantly used ones are the hip and knee joints. The study of tribological properties in these surfaces is challenging, it mainly deals with studying the interaction at three interfaces. They are articulating interface, modular interface, and fixation interface. Various tribological experiments studying the friction wear and lubrication properties of different materials used for these applications are performed.
Fig-2 Artificial joint implants [3]
Surgical fixation devices
In the case of biological fixation devices, the focus is on reducing the total replacements of the injured part and healing the part by fixing the damage using an artificial fixture. These are very important and economic which avoid and reduce the complete loss of that particular part. There are various kinds of surgical fixtures available for fractures such as titanium alloy, stainless steel, cobalt chromium, etc. These fixtures are surgically inserted at the injured region and will be removed after a certain duration or could be remained at that region if there are no complications or contamination. Studying and understanding the tribology of these materials could help in designing better fixtures for various applications.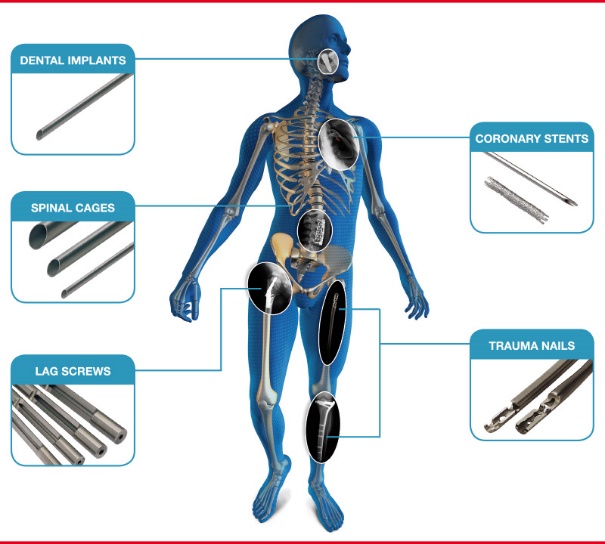 Fig-3 Artificial surgical fixation devices [4]
Other medical devices
Bio tribological applications are researched in dental restoration devices where the material used for a dental implant is studied for its friction, wear, and lubrication properties. Materials such as metals, their alloys, polymers, and ceramics are used in these applications. Further cardiovascular devices called ventricular assist devices are studied for their fluid friction properties at device blood interface. These devices are carefully designed to avoid blood damage and avoid washouts. Similarly, in the case of minimally invasive surgical devices, the research is focused on equipment used in endoscopic operations for their device tissue interactions. There are lots of existing problems with frictional problems at the tissue-device interface and hence the current day research is focused on addressing these issues and providing possible solutions.
Fig-4 Artificial stents [5]
Reference
[1] Zhang, X., Zhang, Y. and Jin, Z., 2022. A review of the bio-tribology of medical devices. Friction, 10(1), pp.4-30.
[2] Ni, J., Ling, H., Zhang, S., Wang, Z., Peng, Z., Benyshek, C., Zan, R., Miri, A.K., Li, Z., Zhang, X. and Lee, J., 2019. Three-dimensional printing of metals for biomedical applications. Materials Today Bio, 3, p.100024.
[3] https://www.news-medical.net/whitepaper/20221121/Surface-finishing-techniques-for-medical-implants.aspx
[4] https://www.finetubes.co.uk/markets/medical-tubes
[5] https://allpointsmedicalwaste.com/extracted-medical-implants-are-they-medical-waste/
I am currently working as a Postgraduate Researcher at the University of Leeds. Previously I completed my master's under the prestigious Erasmus Mundus joint master's degree program (Master's in Tribology). I have also completed my bachelor's in Mechanical engineering from VTU, Belgaum, India. I am working as the social media manager for Tribnet and also I have my youtube channel Tribo Geek.